UPCOMING
November 12 and 13, 2022
Red Heat Ceramics Presents
Open Studio + Ceramic Art Sale
1645 E 8th St, Tulsa, OK  (Pearl District)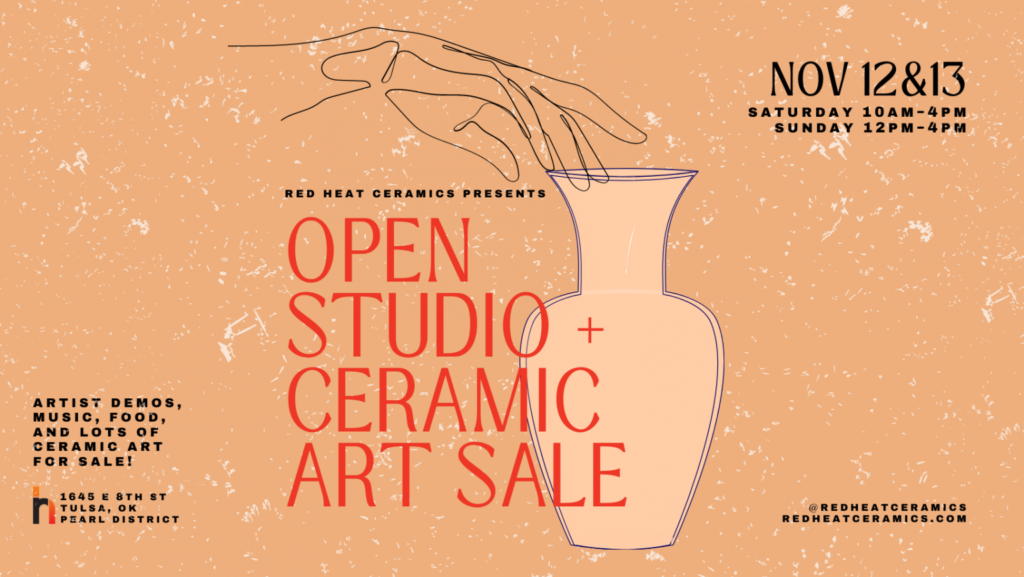 ---
PAST EVENTS
---
October 25, 26, 27, 2019
Fayetteville, AR
November 4 and 5, 2019
Tulsa, OK

Fri, Oct 25, 2019 – 6:00 to 9:00 pm




Sat, Oct 26, 2019 – 1:00 to 4:00 pm




Sun, Oct 27, 2019 – 1:00 to 4:00 pm

Mon, Nov 4, 2019 – 6:00 to 8:00 pm




Tue, Nov 5, 2019 – 6:00 to 8:00 pm
---
November 16, 17, 18, 2018
Fayetteville, AR
2018 Attitude in Clay
Join us Friday Night for
wine and hors d'oeuvres
Friday, November 16, 2018 6:00 – 9:00 p.m.
Saturday, November 17, 2018 10:00 a.m. – 4:00 p.m.
Sunday, November 18, 2018 1:00 – 4:00 p.m.
---
Saturday, November 11, 2017
Tulsa, OK
Speakeasy Charity
5:00 p.m. to 9:00 p.m.
2651 S Boston Avenue (Maple Ridge) (map link)
Beverly Norton Walker, featured ceramic artist
(click the image for a printable pdf version of the flier)
---
November 11, 12, 13, 2016
Fayetteville, AR
In November 2016 I celebrated 40 years in clay art, and the 2016 "You've Come A Long Way Baby" Show was a great success.  Thank you to all who came.
"You've Come A Long Way, Baby", celebrating 40 years in clay.  This show was a celebration of where I have been, what I have learned, how I can better myself not only as an artist but personally, and above all those who have inspired me along the way. It spoke to the evolution of my work and added a fun twist to the ride I have experienced in clay art for 40 years.